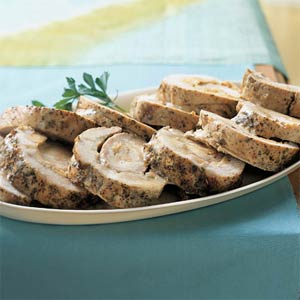 Ingredients
Cooking spray
1/2 cup finely chopped onion
1/4 cup finely chopped celery
1 1/4 teaspoons freshly ground black pepper, divided
1/2 cup diced peeled Granny Smith apple
1 1/2 cups corn bread stuffing mix (such as Pepperidge Farm)
1 1/3 cups apple juice or cider, divided
1 1/2 teaspoons dried rubbed sage, divided
1 large egg, lightly beaten
1 (4-pound) boneless center-cut pork loin roast, trimmed
1 1/2 teaspoons salt, divided
3 Granny Smith apples, peeled, cored, and cut into 1-inch wedges
2 teaspoons cornstarch
1 (14-ounce) can fat-free, less-sodium chicken broth
Preparation
Preheat oven to 450°.
Heat a nonstick skillet coated with cooking spray over medium heat. Add onion, celery, and 1/8 teaspoon pepper; cover and cook 10 minutes or until tender, stirring occasionally. Add diced apple; cook 1 minute, stirring constantly. Place apple mixture in a large bowl, and cool slightly. Stir in the stuffing mix, 1/3 cup juice, 1/2 teaspoon sage, and egg; set aside.
Starting off-center, slice pork lengthwise, cutting to, but not through, other side. Open butterflied portions, laying pork flat. Turning knife blade parallel to surface of cutting board, slice larger portion of pork in half horizontally, cutting to, but not through, other side; open flat. Place plastic wrap over pork; pound to 1-inch thickness using a meat mallet or rolling pin. Sprinkle with 1/2 teaspoon salt.
Spread stuffing over pork, leaving a 1/2-inch margin around outside edges. Roll up pork, jelly-roll fashion, starting with a long side. Secure at 2-inch intervals with twine. Combine 1 teaspoon pepper, 1 teaspoon sage, and 1 teaspoon salt; rub over pork.
Arrange apple wedges in a single layer in bottom of a broiler pan coated with cooking spray; place pork on apples. Bake at 450° for 20 minutes. Reduce oven temperature to 325° (do not remove the pork from oven). Bake an additional 1 hour and 15 minutes or until a thermometer registers 155°. Remove pork from pan; cover and let stand 10 minutes. Discard apple wedges.
Combine 1 cup juice, cornstarch, and broth in a small saucepan; stir with a whisk. Bring broth mixture to boil. Reduce heat, and simmer 5 minutes. Stir in 1/8 teaspoon black pepper. Cut pork into 1/2-inch- thick slices, and serve with sauce.
Cooking Light DT