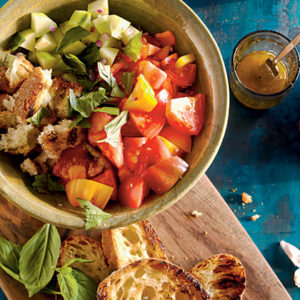 Ingredients
4 (1-ounce) slices day-old country-style bread
4 cups coarsely chopped tomatoes (about 1 1/2 pounds)
1 cup finely chopped red onion
3/4 cup chopped yellow bell pepper
3/4 cup chopped orange bell pepper
1/2 cup torn fresh basil leaves
1 English cucumber, peeled and coarsely chopped
1/4 cup red wine vinegar
1/2 teaspoon freshly ground black pepper
1/4 teaspoon salt
2 garlic cloves, minced
1/4 cup extra-virgin olive oil
How to Make It
Prepare grill to medium-high heat.
Place bread slices on grill rack; grill 1 minute on each side or until golden brown with grill marks. Remove from grill; tear bread into 1-inch pieces.
Combine tomatoes, onion, bell peppers, basil, and cucumber in a large bowl. Add bread; toss gently.
Combine vinegar, black pepper, salt, and garlic in a small bowl, stirring with a whisk. Gradually add oil, stirring constantly with a whisk. Drizzle dressing over salad; toss gently to coat. Cover and chill 20 minutes before serving.
CL:AG