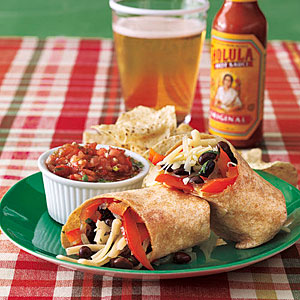 Ingredients
3 tablespoons olive oil
2 medium onions, sliced
2 red bell peppers, seeded and thinly sliced
2 cloves garlic, minced
Salt
1 15-oz. can black beans, drained and rinsed
1 tablespoon finely chopped fresh cilantro
1 1/2 tablespoons lime juice
1/2 teaspoon hot sauce, plus more to taste, optional
4 8-inch whole-wheat tortillas
4 ounces shredded Monterey Jack (about 1 1/2 cups)
Preparation
1. In a large skillet, warm 2 Tbsp. oil over medium heat. Add onions, bell peppers and garlic, sprinkle with salt and cook, stirring, until vegetables have softened, 6 to 8 minutes. Remove from heat.
2. Combine beans, cilantro, lime juice, hot sauce, if desired, and 1 Tbsp. olive oil in a medium bowl. Taste and season with salt.
3. Warm a large skillet over medium heat. One at a time, add tortillas and let cook 1 to 2 minutes to soften, flipping once. Spread 1/4 of onion mixture (about 1 cup) along center of each tortilla. Top with bean mixture (about 1/2 cup) and 1/4 of cheese. Fold in sides and roll up tightly. Repeat. Cut burritos in half and serve immediately.
Cooking Light DT