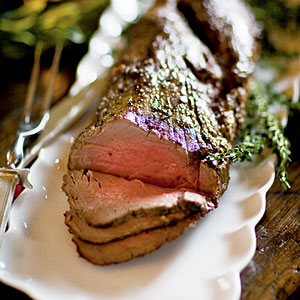 Ingredients
1 (3 1/4-pound) boneless pork loin roast, trimmed
1 1/2 teaspoons freshly ground black pepper
1 teaspoon salt
1 teaspoon dry mustard
1 teaspoon dried sage (not rubbed sage)
1/2 teaspoon dried thyme
1 tablespoon olive oil
2 cups sliced onion
1 cup finely chopped leek
1 cup finely chopped carrot
1/2 cup port or other sweet red wine
1/3 cup fat-free, lower-sodium chicken broth
1/3 cup water
1 cup pitted dried plums (about 20 dried plums)
2 bay leaves
2 tablespoons cornstarch
2 tablespoons water
Preparation
1. Cut roast in half crosswise. Combine pepper and next 4 ingredients (through thyme). Rub seasoning mixture over surface of roast halves.
2. Heat a large Dutch oven over medium-high heat. Add oil to pan; swirl to coat. Add pork, browning on all sides. Place pork in a 4 1/2-quart electric slow cooker. Add onion, leek, and carrot to Dutch oven; sauté 5 minutes or until vegetables are golden. Stir in wine, broth, and 1/3 cup water, scraping pan to loosen browned bits. Pour wine mixture over pork in slow cooker; add plums and bay leaves. Cover and cook on HIGH for 1 hour. Reduce heat to LOW, and cook for 5 to 6 hours or until pork is tender.
3. Remove pork from slow cooker; reserve cooking liquid in slow cooker. Set pork aside; keep warm. Increase heat to HIGH. Combine cornstarch and 2 tablespoons water; stir well, and add to cooking liquid. Cook, uncovered, 15 minutes or until mixture is thick, stirring frequently. Discard bay leaves. Slice pork, and serve with sauce.
Cooking Light DT