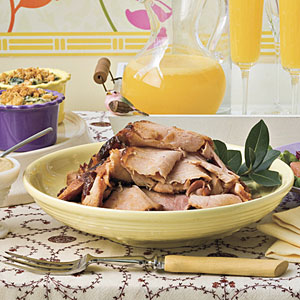 Ingredients
1 (6- to 8-lb.) fully cooked, bone-in ham
48 whole cloves
1 (16-oz.) package light brown sugar
1 cup spicy brown mustard
1 cup cola soft drink
3/4 cup bourbon
Garnish: fresh bay leaves
Preparation
1. Preheat oven to 350°. Remove skin from ham, and trim fat to 1/4-inch thickness. Make shallow cuts in fat 3/4 inch apart in a diamond pattern. Insert cloves in centers of diamonds. Place ham in a lightly greased 13- x 9-inch pan.
2. Stir together brown sugar and next 3 ingredients; spoon mixture over ham.
3. Bake at 350° on lowest oven rack 2 hours and 30 minutes, basting with pan juices every 15 to 20 minutes. Remove ham from oven, and let stand 20 minutes before slicing. Garnish, if desired.
Cooking Light DT