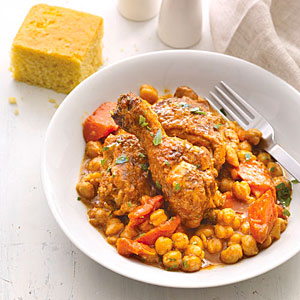 Ingredients
1 medium onion, chopped
2 medium carrots, cut into 1-inch chunks (about 2 cups)
2 cloves garlic, minced
1 15-oz. can chickpeas, drained and rinsed
1 tablespoon all-purpose flour
Salt and pepper
2 tablespoons olive oil
2 pounds bone-in, skin-on chicken legs and thighs, separated at the joints
1 tablespoon Cajun seasoning
3/4 cup low-sodium vegetable juice such as V8
Make Monte Cristo Brunch Casserole
Preparation
1. In a slow cooker, stir together onion, carrots, garlic, chickpeas and flour. Season with salt and pepper.
2. Warm oil in a large skillet over medium-high heat. Rub chicken with seasoning. Add chicken to skillet in a single layer; work in batches if necessary. Brown on all sides, about 5 minutes total, turning once (chicken should not be cooked through). Add to slow cooker. Repeat with remaining chicken if necessary.
3. Reduce heat to medium; pour vegetable juice into skillet. Using a wooden spoon, scrape up browned bits from bottom. Cook 2 minutes; add to slow cooker.
4. Cover and cook on low until chicken is fork-tender, 4 to 5 hours.
Cooking Light DT