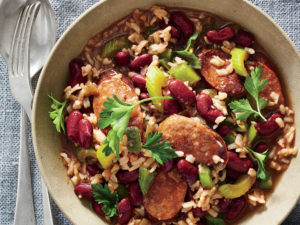 Ingredients
1 pound dried red kidney beans
1 tablespoon olive oil
6 ounces andouille sausage, sliced
1 cup chopped green bell pepper
1 cup chopped yellow onion
1 cup chopped celery
1/4 cup chopped green onions
1 tablespoon minced garlic
1 tablespoon chopped fresh thyme
2 teaspoons chopped fresh sage
1/2 teaspoon ground red pepper
6 cups water
4 cups unsalted chicken stock
1 teaspoon kosher salt
1 bay leaf
1 cup uncooked long-grain brown rice
1/4 cup chopped fresh flat-leaf parsley
Parsley leaves (optional)
Hot sauce (optional)
How to Make It
Rinse beans, and place in a bowl with water to cover by 2 inches. Let stand 8 hours or overnight. Drain.
Heat oil in a Dutch oven over medium-high. Add andouille; cook, stirring occasionally, until browned, about 3 minutes. Using a slotted spoon, transfer andouille to a bowl, reserving drippings in pan. Add bell pepper, onion, celery, chopped green onions, garlic, thyme, sage, and red pepper to pan; cook, stirring occasionally, until softened and browned, about 7 minutes. Add beans, 6 cups water, stock, salt, and bay leaf; bring to a boil. Reduce heat to medium, and simmer, uncovered, until beans are mostly tender, about 1 1/2 hours.
Stir in andouille and rice; cover and cook 1 hour or until rice is tender. Remove from heat; discard bay leaf. Stir in chopped parsley. Top with parsley leaves and serve with hot sauce, if desired.
CL:AG