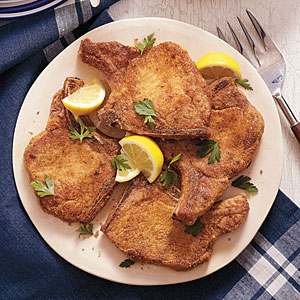 Ingredients
4 (8-oz.) bone-in center-cut pork chops
1 1/2 teaspoons Cajun seasoning*
3 tablespoons self-rising flour
1/2 cup plain yellow cornmeal
1 tablespoon butter
2 tablespoons olive oil
Lemon (optional)
Garnish: fresh parsley sprig
Preparation
1. Sprinkle pork chops with 1 tsp. seasoning. Combine remaining seasoning, flour, and cornmeal. Dredge pork chops in flour mixture, shaking off excess.
2. Melt butter with oil in a large skillet over medium-high heat; add pork chops, and cook 8 to 10 minutes on each side or until done. Squeeze juice from lemon over pork chops, and garnish, if desired. Serve immediately.
*Creole seasoning may be substituted.
Cooking Light DT