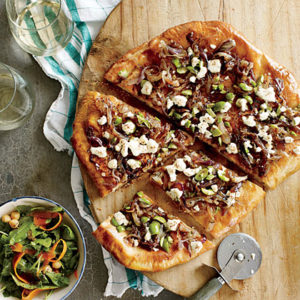 Ingredients
12 ounces refrigerated fresh pizza dough
4 teaspoons olive oil, divided
2 cups vertically sliced yellow onion
1 cup vertically sliced red onion
1 cup vertically sliced white onion
2 tablespoons thinly sliced garlic
3/4 teaspoon dried thyme
1 tablespoon white wine vinegar
1 1/2 ounces Castelvetrano olives, chopped
1 1/2 ounces goat cheese, crumbled
1/2 teaspoon freshly ground black pepper
1/8 teaspoon kosher salt
How to Make It
Place a pizza stone or heavy baking sheet in oven. Preheat oven to 450° (keep pizza stone or baking sheet in oven as it preheats).
Let dough stand at room temperature for 30 minutes.
Heat a large nonstick skillet over medium-low heat. Add 2 teaspoons oil; swirl to coat. Add onions, garlic, and thyme; cook 25 minutes or until onions are very soft and browned, stirring occasionally. Stir in vinegar.
Place dough on a floured surface; roll into a 14-inch circle. Pierce entire surface liberally with a fork. Remove pizza stone from oven. Place dough on pizza stone. Spread remaining 2 teaspoons oil over dough. Spread onion mixture and olives evenly over dough. Sprinkle with cheese, pepper, and salt. Bake at 450° for 15 minutes or until crust is browned. Cut into 8 slices.
CL:AG