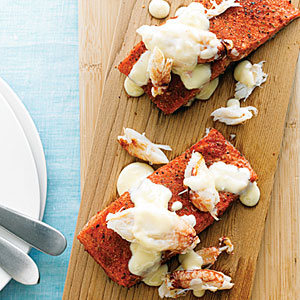 Ingredients
4 pieces wild salmon fillet (6 to 8 oz. each and at least 2 in. wide)
1 tablespoon olive oil
2 tablespoons paprika-based BBQ rub
1 tablespoon butter
8 ounces Dungeness crab (ideally claw meat)
Citrus Beurre Blanc
Preparation
1. Soak a 1/2-in.-thick cedar plank in warm water at least 1 hour. Preheat oven to 450°. Rub salmon with olive oil and BBQ rub, set on plank skin side down, and roast directly on oven rack 8 to 12 minutes, or until almost opaque.
2. Melt butter in a medium frying pan over medium-low heat. Add crab and heat until warm.
3. Top each salmon piece with some crab and drizzle with beurre blanc.
Note: Nutritional analysis is per serving.