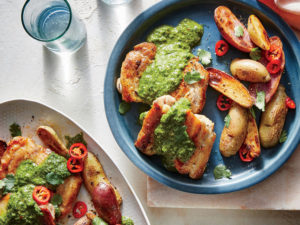 Ingredients
2 tablespoons water
12 ounces fingerling potatoes, halved
5 tablespoons extra-virgin olive oil, divided
8 skinless, boneless chicken thighs (about 1 1/2 lb.)
1 teaspoon kosher salt, divided
3/4 teaspoon black pepper, divided
1 red Fresno chile, halved crosswise
1 cup fresh flat-leaf parsley leaves
1 cup fresh cilantro leaves
1 tablespoon chopped shallots
2 garlic cloves
2 tablespoons fresh lemon juice
How to Make It
Place 2 tablespoons water and potatoes in a microwave-safe bowl; cover and microwave at HIGH 4 minutes or until almost tender.
Heat 2 tablespoons oil in a large nonstick skillet over medium-high. Sprinkle chicken with 1/2 teaspoon salt and 1/2 teaspoon black pepper. Add chicken to pan; cook 5 minutes on each side. Remove from pan; keep warm.
Cut half of chile into thin slices; finely chop remaining half. Add potatoes and chile slices to drippings in pan; cook 4 minutes. Stir in 1/4 teaspoon salt and 1/8 teaspoon black pepper.
Place chopped chile, parsley, cilantro, shallots, and garlic in a mini food processor; pulse to combine. Add remaining 3 tablespoons oil, 1/4 teaspoon salt, 1/8 teaspoon black pepper, and juice; process until smooth. Serve with chicken and potatoes.
CL:AG