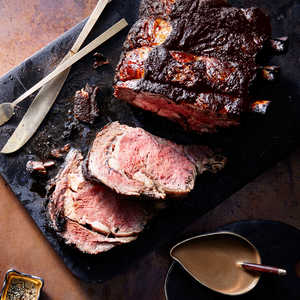 Ingredients
BEEF
1 4-rib beef rib roast (8 to 10 lbs.), fat trimmed to 1/4 in.*
1/3 cup espresso-ground dark-roast coffee beans, such as Illy
3 tablespoons light or dark brown sugar
2 tablespoons bourbon
1 tablespoon kosher salt, divided
1 teaspoon coarsely ground pepper
1/2 pound shallots (7 or 8 medium), unpeeled
COFFEE CREAM GRAVY
1/2 cup beef broth
1/2 cup whipping cream
1 tablespoon bourbon
1 teaspoon espresso-ground dark-roast coffee beans, such as Illy
Preparation
1. Prepare beef: Pat meat dry. Blend coffee, brown sugar, bourbon, 2 tsp. salt, and the pepper. Rub all over and into meaty parts of roast. Set, bone side down, on a rimmed baking sheet and chill, uncovered, at least 1 and up to 2 days.
2. Preheat oven to 450°. Pat roast dry, removing any excess rub, and sprinkle all over with remaining 1 tsp. salt.
3. Put a V-shaped rack in a roasting pan and add shallots beneath rack. Set roast, bone side down, in rack. Roast 30 minutes, then reduce oven temperature to 350° and roast another 30 minutes. Remove shallots with tongs and let cool. Keep roasting beef until an instant-read thermometer inserted into center of thickest part reaches 130° for medium-rare, 1 to 1 3/4 hours longer. Lift to a cutting board and let rest 30 to 40 minutes, loosely tented with foil.
4. Make gravy: Trim tops from shallots and squeeze soft insides into a blender. Add broth, cream, bourbon, and coffee and whirl until smooth.
5. Pour off and discard all but about 1 tbsp. fat from pan and scrape out anything that looks burned. Set on stovetop and pour gravy into pan. Cook over medium-high heat, scraping up browned bits, until gravy thickens slightly and turns a nutty brown, 2 to 3 minutes. Season with salt and strain into a serving bowl.
6. Snip twine from roast, and lift meat from bones. Slice meat 1/3 to 1/2 in. thick and cut between bones. Serve with Coffee Cream Gravy.
*For easy carving, ask the butcher to cut the meat from the bones and tie them back together for roasting.
Wine pairing: Rib roast calls for a firmly structured, dark-fruited red like Pepper Bridge 2012 Cabernet Sauvignon (Walla Walla Valley; $60). Layers of intriguing leather, tobacco, and spice set off black currant; florals wrap around gripping tannins.
Note: Nutritional analysis is per serving, with 1 tbsp. gravy.
Cooking Light DT