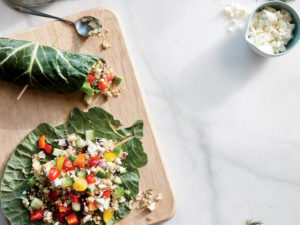 HANDS-ON TIME
45 mins
TOTAL TIME
45 mins
YIELD
Serves 4 (serving size: 2 wraps)
Ingredients
1 1/3 cups water
1 cup uncooked quinoa, rinsed and drained
1/2 cup plain hummus
1/4 cup chopped fresh dill
1/4 cup diced red onion
2 tablespoons fresh lemon juice
2 tablespoons sliced pitted kalamata olives
1 1/2 teaspoons olive oil
3/8 teaspoon kosher salt
1/4 teaspoon freshly ground black pepper
2 ounces feta cheese, crumbled (about 1/2 cup)
8 large collard green leaves (about 8 ounces)
2 cups chopped English cucumber (about 1 large)
1 pint cherry tomatoes, quartered
How to Make It
Bring 1 1/3 cups water and quinoa to a boil in a medium saucepan. Cover, reduce heat, and simmer 12 minutes or until liquid is absorbed. Remove from heat; let stand 5 minutes. Add hummus and next 8 ingredients (through cheese); toss to combine. Refrigerate 15 minutes.
Remove raised portion of the main vein of each collard leaf. Place collards in a large bowl; cover with warm water. Let stand 10 minutes. Drain; pat dry with paper towels.
Place leaves on a large cutting board. Arrange about 1/2 cup quinoa mixture down center of each leaf; top evenly with cucumber and tomatoes. Fold in edges of leaf; roll up, jelly-roll fashion; secure with wooden picks.
Cooking Light JO.