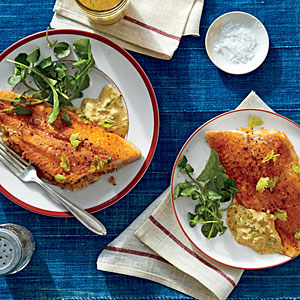 Ingredients
1/2 cup butter
3 celery ribs, diced
1 small onion, diced
1 small green bell pepper, diced
1 tablespoon minced garlic
1 tablespoon fresh lemon juice
2 teaspoons Cajun seasoning
1/8 teaspoon hot sauce
1/2 pound fresh lump crabmeat, drained
1 cup panko (Japanese breadcrumbs)
6 (7-oz.) fresh catfish fillets
1 tablespoon olive oil
1 teaspoon paprika
Vegetable cooking spray
Table salt
Freshly ground black pepper
Cajun Rémoulade
Make Monte Cristo Brunch Casserole
Preparation
1. Melt butter in a large skillet over medium-high heat; add celery and next 3 ingredients, and sauté 6 minutes or until tender. Stir in lemon juice and next 2 ingredients, and cook 1 minute. Gently stir in crabmeat, breadcrumbs, and, if desired, additional Cajun seasoning and hot sauce. Remove from heat; cool completely (about 15 minutes).
2. Preheat oven to 425°. Butterfly catfish fillets by making a lengthwise cut in 1 side, carefully cutting to but not through the opposite side; unfold fillets.
3. Spoon crab mixture down center of 1 side of each butterflied fillet; fold opposite side over filling. Brush fillets with olive oil; sprinkle with paprika and desired amount of salt and pepper. Place fillets on a wire rack coated with cooking spray in a jelly-roll pan.
4. Bake at 425° for 20 to 25 minutes or until fish flakes with a fork. Serve with Cajun Rémoulade.
Cooking Light DT