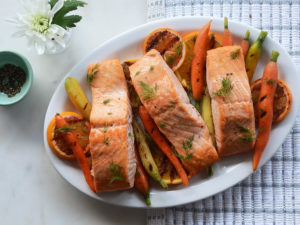 Ingredients
4 (6-oz.) salmon fillets (about 1-in. thick)
4 tablespoons plus 1 teaspoon extra-virgin olive oil, divided
1/4 cup chopped fresh dill
1/2 teaspoon kosher salt
1/2 teaspoon black pepper
8 orange slices
1 pound small carrots, trimmed
NUTRITION INFORMATION
calories 400
fat 23 g
satfat 3.5 g
monofat 14 g
polyfat 2.9 g
protein 36 g
carbohydrate 11 g
fiber 3 g
cholesterol 78 mg
iron 1 mg
sodium 446 mg
calcium 50 mg
sugars 5.4 g
How to Make It
Preheat grill to medium-high heat.
Coat 4 (12-inch-square) pieces of foil each with 1/4 teaspoon olive oil; place 1 fillet in center of each piece. Top each fillet with 1 1/2 teaspoons olive oil and 1 tablespoon dill. Top evenly with salt, pepper, and orange slices. Bring edges of foil up over fillets; fold to seal. Place packets, seal side up, on grill; cover and grill 12 minutes or until desired degree of doneness. Remove foil packets from grill.
Combine 2 tablespoons olive oil and carrots in a bowl; toss. Place carrots on grill; grill 5 minutes or until crisp-tender, turning once after 3 minutes. Divide carrots evenly among 4 plates. Open packets; top carrots with fillets. Squeeze orange slices evenly over fillets.
Cooking Light DT