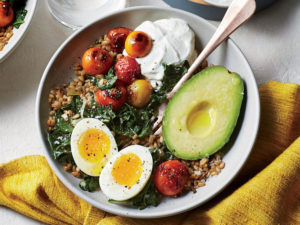 Ingredients
1/2 cup uncooked farro
2 large eggs (refrigerator-cold)
2 teaspoons olive oil
1/2 teaspoon ground cumin
1/2 teaspoon kosher salt, divided
1 medium ripe avocado, halved and pitted
1/4 teaspoon cracked black pepper
3 tablespoons whole-milk plain Greek yogurt
2 lemon wedges
How to Make It
Bring a large saucepan filled water to a boil. Add farro; reduce heat to medium and simmer 20 minutes or until slightly chewy. Drain.
Bring a small saucepan of water to a boil. Add cold eggs; reduce heat to medium-low and simmer 6 minutes. Place eggs in a bowl of ice water; let stand 6 minutes or until completely cool. Drain and peel.
Heat oil in a small skillet over medium. Add cumin; cook 30 seconds, stirring constantly. Add farro and 1/4 teaspoon salt; cook 2 minutes or until lightly toasted. Place 2/3 cup farro mixture in each bowl. Carefully halve one egg over each bowl. Add one avocado half to each bowl. Sprinkle remaining 1/4 teaspoon salt and pepper evenly over top. Top each with 1 1/2 tablespoons yogurt. Squeeze 1 lemon wedge over each bowl.
CL:AG