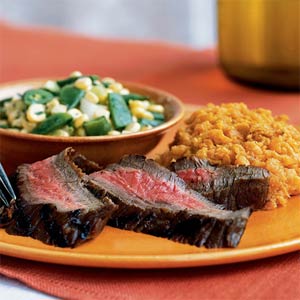 Ingredients
1/4 cup chopped shallots
1/4 cup red wine vinegar
2 tablespoons balsamic vinegar
1 teaspoon coarsely ground black pepper, divided
1 (1-pound) flank steak, trimmed
1/4 teaspoon salt
Cooking spray
Preparation
Combine first 3 ingredients in a large zip-top plastic bag; add 1/2 teaspoon pepper and steak. Seal and marinate in refrigerator 8 hours or overnight, turning occasionally.
Prepare grill or broiler.
Remove steak from bag; discard marinade. Sprinkle steak with 1/2 teaspoon pepper and salt. Place steak on grill rack or broiler pan coated with cooking spray; cook 6 minutes on each side or until desired degree of doneness. Cut steak diagonally across grain into thin slices.
Cooking Light DT