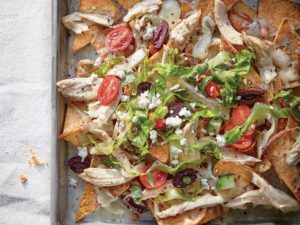 Ingredients
3 (6-in.) whole-wheat pitas Cooking spray 2 1/2 tablespoons extra-virgin olive oil, divided 2 tablespoons red wine vinegar 1/4 teaspoon black pepper 4 cups shredded romaine lettuce 1 cup grape tomatoes, halved lengthwise 1 cup chopped English cucumber 10 pitted kalamata olives, halved lengthwise 8 ounces skinless, boneless rotisserie chicken breast, shredded (about 2 cups) 3 ounces part-skim mozzarella cheese, shredded (about 3/4 cup) 2 ounces feta cheese, crumbled (about 1/2 cup) 2 tablespoons coarsely chopped fresh oregano
How to Make It
Step 1
Preheat oven to 400°F.
Step 2
Split each pita in half horizontally into rounds. Coat cut sides of pitas with cooking spray. Cut each pita half into 8 wedges. Arrange half of wedges, cut side up, on a baking sheet lined with foil. Bake at 400 for 8 minutes or until browned; remove from pan. Repeat procedure with remaining wedges. Cool 10 minutes.
Step 3
Combine oil, vinegar, and pepper in a medium bowl, stirring with a whisk. Add lettuce, tomatoes, cucumber, and olives; toss to coat.
Step 4
Arrange all pita chips on foil-lined baking sheet so they overlap. Top with chicken, mozzarella, and feta. Bake at 400°F for 3 minutes or until cheese melts. Top with lettuce mixture and oregano.
CL:AG