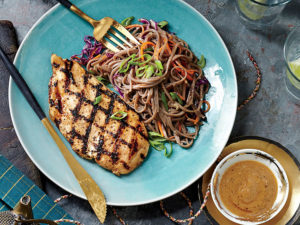 Ingredients
3 ounces uncooked soba noodles
1/2 cup shredded carrot
2 tablespoons canola oil
1 tablespoon white/yellow miso (soybean paste)
1 tablespoon rice wine vinegar
1 tablespoon lower-sodium soy sauce
2 teaspoons dark sesame oil
1 1/2 teaspoons minced peeled fresh ginger
1 teaspoon honey
1 1/2 cups thinly sliced red cabbage
1/2 cup diagonally sliced green onions
1 teaspoon black sesame seeds
2 (8-ounce) skinless, boneless chicken breast halves, halved horizontally to form 4 (4-ounce) cutlets
1/2 teaspoon freshly ground black pepper
1/4 teaspoon kosher salt
Cooking spray
How to Make It
Prepare soba noodles according to package directions. Add carrot during last minute of cooking. Drain; rinse with cold water. Drain.
Combine oil and next 6 ingredients (through honey) in a large bowl, stirring with a whisk. Place 2 tablespoons miso mixture in a medium bowl. Add noodle mixture, cabbage, and green onions to remaining miso mixture; toss to coat. Sprinkle with sesame seeds.
Sprinkle chicken with pepper and salt. Add chicken to reserved 2 tablespoons miso mixture, turning to coat. Heat a grill pan over medium-high heat. Coat pan with cooking spray. Add chicken to pan; cook 3 minutes on each side or until done. Serve with noodle mixture.
CL:AG