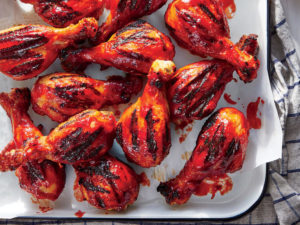 Ingredients
3 cups fresh or frozen sour cherries, pitted and thawed (about 20 oz.)
1/4 cup water
2 tablespoons sugar
1/3 cup honey
1/3 cup unsalted ketchup
1/4 cup unsalted tomato paste
1/4 cup unseasoned rice vinegar
3 tablespoons bourbon
1 1/2 teaspoons kosher salt
1 teaspoon black pepper
1 teaspoon onion powder
1/2 teaspoon dry mustard
1/8 teaspoon ground red pepper
4 pounds chicken drumsticks, skinned (about 16)
Cooking spray
How to Make It
Place cherries in a food processor; pulse until almost smooth. Bring cherry puree, 1/4 cup water, and sugar to a boil in a small saucepan over medium-high. Reduce heat to low; simmer 20 minutes. Strain mixture through a fine-mesh sieve over a bowl to yield about 1 cup liquid; discard remaining solids.
Add cherry liquid to pan; bring to a boil. Stir in honey and next 9 ingredients (through ground red pepper). Reduce heat to medium-low; cook 10 minutes or until slightly thickened, stirring occasionally. Cool. Place 1 cup sauce in a bowl; reserve.
Preheat grill to medium-high (about 450°F).
Coat grill grate and drumsticks with cooking spray. Arrange drumsticks on grill; cover and cook 8 minutes, turning occasionally. Reduce heat to medium. Brush drumsticks with remaining sauce; cook 12 minutes or until done, turning and brushing every 3 minutes. Serve with reserved 1 cup sauce.
CL:AG