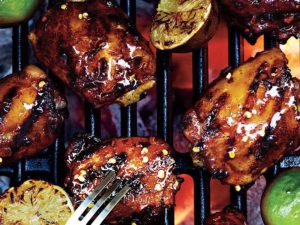 Ingredients
1 1/2 cups hickory wood chips 1 tablespoon ancho chile powder 1 1/2 teaspoons sugar 1 1/2 teaspoons granulated garlic 1 1/2 teaspoons ground cumin 1 1/2 teaspoons freshly ground black pepper 3/4 teaspoon kosher salt 12 bone-in chicken thighs, skinned (about 2 1/2 pounds) 1 1/2 tablespoons extra-virgin olive oil 6 tablespoons amber agave syrup 3 tablespoons tequila 1 1/2 tablespoons hot sauce 1 1/2 tablespoons butter 1 1/2 tablespoons fresh lime juice 1/4 teaspoon crushed red pepper Cooking spray 3 tablespoons chopped fresh cilantro (optional) 6 lime wedges
How to Make It
Step 1
Soak wood chips in water 30 minutes; drain well.
Step 2
Preheat grill to medium-high heat using both burners. After preheating, turn the left burner off (leave the right burner on). Pierce the bottom of a disposable aluminum foil pan several times with the tip of a knife. Place pan on heat element on heated side of grill; add wood chips to pan. Let chips stand for 15 minutes or until smoking.
Step 3
Combine chile powder and next 5 ingredients (through salt) in a medium bowl. Add chicken to bowl; toss well. Add oil to bowl; toss well.
Step 4
Place syrup and next 5 ingredients (through red pepper) in a small saucepan. Bring to a boil. Cook until mixture is reduced to 1/2 cup and begins to thicken (about 3 minutes). Reserve syrup mixture.
Step 5
Place chicken, meaty side down, on grill rack coated with cooking spray over left burner (indirect heat). Brush chicken with 2 tablespoons syrup mixture; grill 15 minutes. Turn chicken over. Brush with 2 tablespoons syrup mixture; grill 15 minutes. Turn chicken over and move to direct heat; grill 5 minutes or until done. Garnish with cilantro, if desired. Serve with remaining syrup mixture and lime wedges.
Chef's Notes
MyRecipes is working with Let's Move!, the Partnership for a Healthier America, and USDA's MyPlate to give anyone looking for healthier options access to a trove of recipes that will help them create healthy, tasty plates. For more information about creating a healthy plate, visit www.choosemyplate.gov.
CL:AG