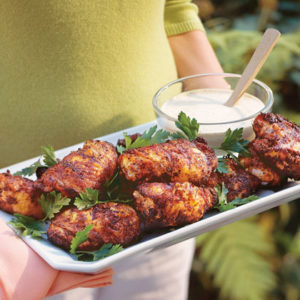 Ingredients
1 tablespoon dried thyme
1 tablespoon dried oregano
1 tablespoon ground cumin
1 tablespoon paprika
1 teaspoon onion powder
1/2 teaspoon salt
1/2 teaspoon pepper
10 chicken thighs (about 3 lb.)*
White Barbecue Sauce
How to Make It
Combine first 7 ingredients. Rinse chicken, and pat dry; rub mixture evenly over chicken. Place chicken in a zip-top plastic freezer bag. Seal and chill 4 hours. Remove chicken from bag, discarding bag.
Grill, covered with grill lid, over medium-high heat (350° to 400°) 8 to 10 minutes on each side or until a meat thermometer inserted into thickest portion registers 180°. Serve with White Barbecue Sauce.
*4 chicken leg quarters (about 3 lb.) may be substituted for chicken thighs. Increase cooking time to 20 to 25 minutes on each side.
CL:AG