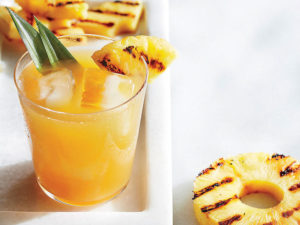 Ingredients
4 cups hot water
3 tablespoons granulated sugar
3/4 cup fresh lemon juice (4 large lemons)
NUTRITION INFORMATION
calories 45
fat 0.1 g
satfat 0.0 g
monofat 0.0 g
polyfat 0.0 g
protein 0.0 g
carbohydrate 12 g
fiber 0.0 g
cholesterol 0.0 mg
iron 0.0 mg
sodium 7 mg
calcium 10 mg
sugars 10 g
Est. Added Sugars 6 g
How to Make It
Heat a grill pan over medium-high. Add pineapple slices in a single layer, and cook 5 to 6 minutes on each side, until dark char marks appear. Set grilled pineapple slices aside to cool.
Combine 4 cups hot water and sugar in a large pitcher, and stir with a whisk until sugar is dissolved.
Process pineapple and lemon juice in a blender until relatively smooth.
Pour pineapple mixture through a fine-mesh strainer into pitcher with sugar mixture; discard solids. Stir well until fully blended. Serve over ice.
Cooking Light AG