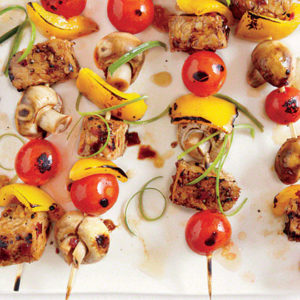 Ingredients
5 teaspoons rice vinegar, divided
1 tablespoon lower-sodium soy sauce
2 teaspoons dark sesame oil
2 teaspoons sambal oelek (ground fresh chile paste)
1/4 teaspoon black pepper
1 (8-ounce) package organic soy tempeh, cut into 16 pieces
2 tablespoons honey
2 tablespoons fresh lime juice
1 tablespoon canola oil
1/2 teaspoon kosher salt
1/8 teaspoon ground red pepper
16 cherry tomatoes
16 button mushrooms
1 large yellow bell pepper, cut into 16 pieces
2 tablespoons diagonally sliced green onions
How to Make It
Combine 1 tablespoon vinegar and next 4 ingredients (through black pepper) in a small zip-top plastic bag; add tempeh. Marinate in refrigerator 2 hours, turning occasionally.
Combine remaining 2 teaspoons vinegar, honey, juice, canola oil, salt, and red pepper in a small saucepan. Bring to a boil over medium-high heat; cook 2 minutes or until honey mixture is slightly thickened.
Preheat grill to high heat.
Thread tempeh, tomatoes, mushrooms, and bell pepper alternately onto each of 8 (6-inch) skewers. Place skewers on grill; grill 10 minutes or until browned, turning after 5 minutes and basting occasionally with half of honey mixture. Drizzle with remaining honey mixture; sprinkle with onions.
CL:AG