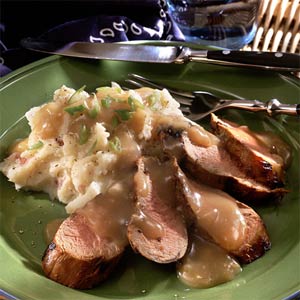 Ingredients
3 (3/4-pound) lean pork tenderloins
1/2 cup diced onion
1/2 cup lemon juice
1/2 cup bourbon whiskey
1/4 cup honey
1/4 cup low-sodium soy sauce
1 tablespoon minced peeled gingerroot
2 tablespoons olive oil
4 garlic cloves, minced
1/2 teaspoon salt
1/4 teaspoon pepper
Vegetable cooking spray
3 tablespoons all-purpose flour
1 1/4 cups water
Preparation
Trim fat from pork. Combine onion and the next 7 ingredients (onion through garlic) in a large zip-top heavy-duty plastic bag. Add pork; seal bag, and marinate in refrigerator for 30 minutes. Remove pork from bag, reserving marinade. Sprinkle salt and pepper over pork.
Prepare grill. Place the pork on grill rack coated with cooking spray. Cover and cook for 30 minutes or until meat thermometer registers 160°, turning and basting pork occasionally with 1/2 cup marinade. Cut the pork into 1/4-inch-thick slices; set aside, and keep warm.
Place flour in a small saucepan. Gradually add remaining marinade and water, stirring with a wire whisk until blended. Bring to a boil over medium heat, and cook 3 minutes or until thickened, stirring constantly. Spoon gravy over pork; serve with mashed potatoes, if desired.
Cooking Light DT