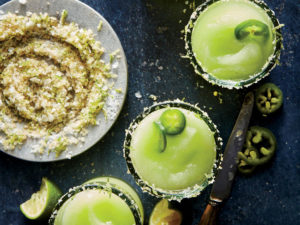 Ingredients
1/2 cup silver tequila
1 jalapeño pepper, sliced
5 tablespoons fresh lime juice, divided
1 tablespoon turbinado sugar
1 teaspoon grated lime rind
1/2 teaspoon coarse sea salt
1/2 pound (about 1 1/2 cups) frozen honeydew melon cubes
1 1/2 cups ice cubes
1/2 cup water
1 tablespoon light agave syrup
How to Make It
Combine tequila and jalapeño in a bowl; let stand 2 to 4 hours. Pour through a small wire-mesh strainer into a bowl. Discard solids.
Place 2 tablespoons lime juice in a shallow dish. Stir together sugar, rind, and salt in a second shallow dish. Dip rims of 4 chilled 8-ounce glasses in lime juice then dip in sugar mixture.
Process infused tequila, honeydew, ice cubes, water, agave syrup, and remaining 3 tablespoons lime juice in a blender until smooth, about 1 minute. Pour evenly into prepared glasses.
CL:AG