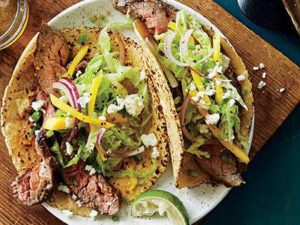 Ingredients
1 (1 1/4-pound) flank steak, trimmed 2 teaspoons grated lemon rind 3/4 teaspoon freshly ground black pepper Cooking spray 2 tablespoons fresh lemon juice 1 tablespoon olive oil 1 tablespoon lower-sodium soy sauce 3 garlic cloves, minced 1/4 teaspoon kosher salt 12 (6-inch) corn tortillas 1 ounce queso fresco, crumbled (about 1/4 cup)
How to Make It
Step 1
Sprinkle steak with rind and pepper, pressing to adhere.
Step 2
Heat grill pan over medium-high heat. Coat pan with cooking spray. Add steak to pan; grill 6 minutes on each side or until desired degree of doneness. Place steak on a cutting board; let stand 5 minutes.
Step 3
Combine juice, oil, soy sauce, and garlic in a small bowl. Cut steak diagonally across grain into thin slices. Drizzle steak with soy sauce mixture; sprinkle with salt.
Step 4
Heat tortillas on grill pan coated with cooking spray 20 seconds on each side or until lightly charred. Divide steak among tortillas. Sprinkle each taco with about 1 teaspoon cheese.
CL:AG