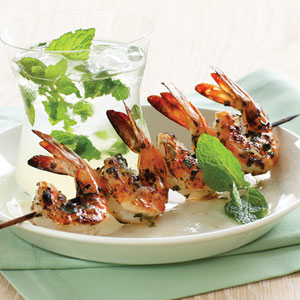 Ingredients
1 to 1 1/2 lbs. peeled, deveined shrimp (21 to 30 per lb., tails on)
Mojito Marinade
2 tablespoons fresh lime juice
Mint sprigs
Preparation
1. Prepare a gas or charcoal grill for high heat (you can hold your hand 1 to 2 in. above cooking grate only 1 to 2 seconds). Meanwhile, put shrimp in a 1-gal. resealable plastic bag and pour in marinade. Seal and marinate at room temperature 15 to 20 minutes.
2. Remove shrimp, reserving marinade. Thread shrimp onto 6 or 7 (10- to 14-in.) metal or bamboo skewers.
3. Arrange shrimp on grill and baste with marinade (dab some mint and shallot onto shrimp); close lid. Cook until shrimp are just beginning to brown, 1 to 2 minutes. Turn shrimp over, baste again, and close lid. Cook 1 to 2 minutes until browned but still moist in center (cut to check). Transfer shrimp to a platter, drizzle with lime juice, and garnish with mint sprigs.
Cooking Light JO.