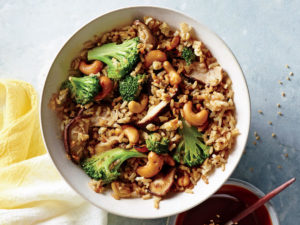 Ingredients
3 tablespoons toasted sesame oil, divided
3 cups broccoli florets
8 ounces presliced shiitake mushrooms
2 (8.8-oz.) pkg. precooked brown rice (such as Uncle Ben's)
1/2 cup unsalted, roasted cashews
2 large eggs, lightly beaten
3 tablespoons reduced-sodium soy sauce, divided
1/4 teaspoon black pepper
1/4 cup peanut butter
1 tablespoon rice vinegar
1 tablespoon water
1 tablespoon toasted sesame seeds
How to Make It
Heat 1 tablespoon oil in a large nonstick skillet over medium-high. Add broccoli and mushrooms; cook 6 minutes. Remove broccoli mixture from pan (do not wipe out pan).
Add remaining 2 tablespoons oil to pan. Add rice and cashews; cook 5 minutes. Stir in eggs; cook 1 minute. Stir in broccoli mixture, 1 tablespoon soy sauce, and pepper.
Combine remaining 2 tablespoons soy sauce, peanut butter, vinegar, and 1 tablespoon water in a bowl. Top rice mixture with peanut butter mixture and sesame seeds.
CL:AG