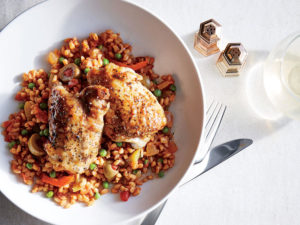 Ingredients
12 skinless, bone-in chicken thighs (about 2 1/4 lb.)
1 tablespoon apple cider vinegar
1/4 teaspoon black pepper
2 teaspoons dried oregano, divided
1 1/4 teaspoons kosher salt, divided
2 tablespoons olive oil, divided
1 cup chopped yellow onion
1 large red bell pepper, cut into 2-in.-long, 1/2-in.-thick strips
1 large green bell pepper, cut into 2-in.-long, 1/2-in.-thick strips
5 garlic cloves, minced
1/2 teaspoon saffron threads (optional)
1/2 teaspoon ground cumin
2 1/2 cups unsalted chicken stock
1 1/2 cups uncooked farro, rinsed and drained
1 (14.5-oz.) can unsalted diced tomatoes, drained
6 large pimiento-stuffed green olives, sliced
1 cup frozen petite green peas
How to Make It
Combine chicken, vinegar, black pepper, 1 teaspoon oregano, and 1/4 teaspoon salt in a large bowl, turning to coat chicken on all sides. Let stand 20 minutes; drain.
Heat 1 tablespoon oil in a Dutch oven over medium-high. Add 6 chicken thighs to pan in a single layer; cook until well browned, about 3 minutes per side. Transfer chicken to a plate. Repeat process with remaining 1 tablespoon oil and remaining 6 chicken thighs.
Reduce heat to medium. Add onion, bell peppers, and garlic to pan; cook, stirring often, until vegetables are tender, about 10 minutes. Stir in saffron (if using), cumin, 1 teaspoon oregano, and 1 teaspoon salt; cook 1 minute. Stir in stock, farro, and tomatoes. Increase heat to high; bring to a boil. Return chicken and accumulated juices to pan. Reduce heat to medium-low; cover and cook until chicken is done, about 20 minutes.
Stir in olives. Cook, uncovered, until farro is tender and most of the liquid has been absorbed, about 8 minutes. Stir in peas; cook until peas are tender, about 3 minutes.
CL:AG