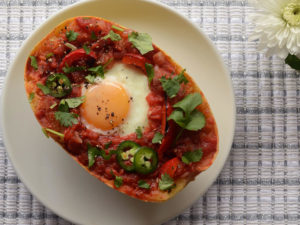 Ingredients
1 medium spaghetti squash
2 tablespoons extra virgin olive oil
1/2 medium yellow onion, chopped
1 large garlic clove, minced
1 red pepper, chopped
1 jalapeño, seeded and chopped
1 (15-oz.) can diced, unsalted tomatoes
1 teaspoon cumin
3/4 teaspoon chili powder
1/2 teaspoon kosher salt
2 large eggs
2 tablespoons finely chopped fresh cilantro
NUTRITION INFORMATION
calories 179
fat 10 g
satfat 2 g
monofat 6 g
polyfat 1.8 g
protein 5 g
carbohydrate 20 g
fiber 4.5 g
cholesterol 93 mg
iron 2 mg
sodium 332 mg
calcium 84 mg
sugars 0.3 g
How to Make It
Preheat oven for 425°F. Using a fork, poke the spaghetti squash several times all over. Microwave for 10 minutes on high, flipping half way through the cook time. Cut squash in half and remove seeds. Using a fork, gently scrape the flesh to form "spaghetti strands."
In a medium skillet over medium heat, add oil, onion, and peppers. Cook until slightly softened, about 5 minutes. Add garlic. Sauté 1 minute. Add canned tomatoes, cumin, chili powder, salt, and pepper, and let simmer 10 minutes.
To construct the dish, divide the sauce among each of 4 squash halves. Using a spoon or spatula, fully mix the tomato sauce with squash strands. Make a divot in the center of each boat and crack an egg into the divot.
Place each squash half on a baking sheet. Use aluminum foil to secure the squash halves if they roll. Bake 10 minutes. Remove from oven, top with cilantro, and serve immediately.
Cooking Light DT