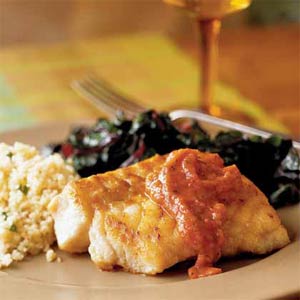 Ingredients
1 red bell pepper, cut into 1-inch strips
12 plum tomatoes, halved lengthwise and cut into 1/2-inch slices
Cooking spray
2 tablespoons olive oil, divided
3/4 teaspoon salt, divided
1/2 teaspoon dried Italian seasoning
1 tablespoon red wine vinegar
1/4 teaspoon freshly ground black pepper
5 basil leaves
2 tablespoons all-purpose flour
1 tablespoon cornmeal
4 (6-ounce) grouper fillets (about 1 inch thick)
2 tablespoons chopped fresh basil (optional)
Preparation
Preheat oven to 350°.
Arrange bell pepper strips and tomato slices in a single layer on a jelly-roll pan coated with cooking spray; drizzle with 1 tablespoon oil. Sprinkle with 1/4 teaspoon salt and Italian seasoning; stir to coat. Bake at 350° for 40 minutes or until edges are lightly browned. Remove from oven.
Increase oven temperature to 400°.
Transfer tomato mixture to a food processor. Add 1/4 teaspoon salt, vinegar, black pepper, and basil leaves; process until smooth. Spoon tomato mixture into a bowl. Cover and keep warm.
Heat remaining 1 tablespoon oil in a large ovenproof skillet over medium-high heat. Combine flour and cornmeal in a shallow dish. Sprinkle fish with 1/4 teaspoon salt; dredge in flour mixture. Add fish to pan; cook 3 minutes. Turn fish over; bake at 400° for 8 minutes or until fish flakes easily when tested with a fork. Serve fish with tomato sauce; garnish with chopped fresh basil, if desired.
Cooking Light DT