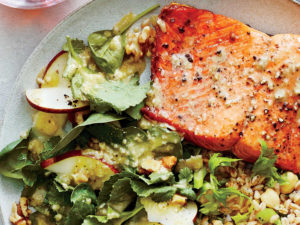 Ingredients
1/4 cup toasted walnuts, divided
2 1/2 tablespoons extra-virgin olive oil, divided
1 ounce grated fresh Parmigiano-Reggiano cheese (about 1/4 cup), divided
1 1/2 tablespoons fresh lemon juice
1 tablespoon white balsamic vinegar
2 teaspoons honey
2 teaspoons Dijon mustard
1 teaspoon water
1 teaspoon minced fresh garlic
1/2 teaspoon kosher salt, divided
4 (6-oz.) wild salmon fillets (about 1 in. thick)
1/4 teaspoon freshly ground black pepper
4 cups baby kale
4 cups baby spinach
1 cup thinly sliced ripe pear
How to Make It
Preheat oven to 425°F.
Finely chop or grind 2 tablespoons walnuts. Combine finely chopped walnuts, 2 tablespoons olive oil, 2 tablespoons cheese, and next 5 ingredients (through 1 teaspoon water) in a small bowl. Add garlic and 1/4 teaspoon salt, stirring with a whisk.
Sprinkle salmon with remaining 1/4 teaspoon salt and pepper. Heat a large cast-iron skillet over high. Add remaining 1 1/2 teaspoons oil to pan; swirl to coat. Add salmon, skin side down; cook 3 minutes or until skin begins to brown, gently pressing fillets. Place pan in oven (salmon should still be skin side down). Bake for 4 to 5 minutes or until desired degree of doneness.
Combine kale, spinach, and pear in a large bowl. Add 4 tablespoons dressing; toss to coat. Divide kale mixture evenly among 4 plates, and sprinkle evenly with remaining 2 tablespoons cheese and remaining 2 tablespoons walnuts. Top each salad with 1 fillet. Drizzle fillets evenly with remaining dressing.
CL:AG