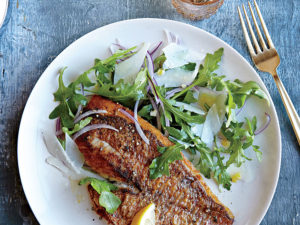 Ingredients
4 tablespoons extra-virgin olive oil, divided
1 teaspoon grated lemon rind
1 tablespoon fresh lemon juice
1/2 teaspoon minced garlic
3/4 teaspoon kosher salt, divided
6 (6-ounce) red snapper fillets
1/4 teaspoon freshly ground black pepper
5 ounces fresh baby arugula
1/4 cup thinly sliced red onion
2 ounces pecorino Romano cheese, shaved
6 lemon wedges
Get Ingredients
NUTRITION INFORMATION
calories 300
fat 14.8 g
satfat 4.2 g
monofat 7.6 g
polyfat 1.7 g
protein 38 g
carbohydrate 2 g
fiber 1 g
cholesterol 73 mg
iron 1 mg
sodium 541 mg
calcium 179 mg
How to Make It
Combine 3 tablespoons oil, rind, juice, and garlic in a large bowl, stirring well with a whisk. Stir in 1/4 teaspoon salt.
Sprinkle fish with remaining 1/2 teaspoon salt and pepper. Heat a large nonstick skillet over medium-high heat. Add 1 1/2 teaspoons oil to pan; swirl to coat. Add 3 fillets, skin side down; reduce heat to medium, and cook 5 minutes or until skin is golden and crisp. Turn fillets; cook 3 minutes or until done. Remove fish from pan; keep warm. Wipe pan clean; repeat procedure with remaining oil and remaining 3 fillets.
Add arugula to dressing; toss. Top with onion and cheese. Serve salad with fillets and lemon wedges.
Cooking Light AG