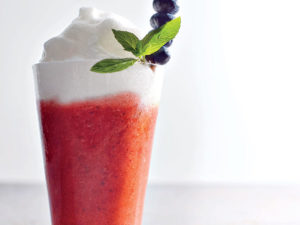 Ingredients
2 pounds fresh strawberries, hulled and halved
1/2 teaspoon kosher salt
1/4 cup granulated sugar, divided
1 (15-oz.) can unsalted chickpeas, undrained
1/2 teaspoon vanilla extract
1/8 teaspoon cream of tartar
6 cups ice
1 1/4 cups (10 oz.) silver tequila
2/3 cup fresh lime juice (from about 5 limes)
1/3 cup loosely packed fresh mint leaves, plus sprigs for garnish
3 tablespoons light agave nectar
1/2 cup fresh blueberries (optional)
How to Make It
Preheat oven to 375°F. Line a rimmed baking sheet with parchment paper. Place strawberry halves, salt, and 2 tablespoons sugar in a medium bowl; toss to coat. Spread strawberries in a single layer on prepared baking sheet. Bake at 375°F for 25 minutes. Let strawberries cool slightly, about 20 minutes.
Drain liquid from can of chickpeas into bowl of a heavy-duty stand mixer fitted with whisk attachment (reserve chickpeas for another use). Add vanilla and cream of tartar to chickpea liquid, and beat on medium-high speed, gradually adding remaining 2 tablespoons sugar, until soft peaks form, 6 to 8 minutes.
Transfer roasted strawberries and juice from pan to a high-powered blender. Add ice, tequila, lime juice, mint leaves, and agave nectar. Process on high speed until creamy, about 1 minute. Pour evenly into each of 8 glasses; top each with about 1/3 cup aquafaba whip.
If desired, thread blueberries onto each of 8 small skewers, and add to each glass with a mint sprig.
CL:AG