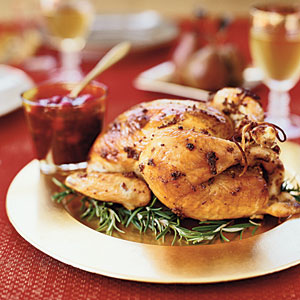 Ingredients
2 (3 1/2- to 4-pound) whole chickens, raw with skin
1/2 cup stone-ground mustard
2 large garlic cloves, minced
3 tablespoons chopped fresh or 1 tablespoon dried rosemary
1 cup bottled cranberry chutney (such as Crosse & Blackwell, www.crosseandblackwell.com) or cranberry relish
1/4 cup chopped pecans, toasted
Preparation
1. Preheat oven to 375°.
2. Rinse chickens with cold water; pat dry with paper towels. Place chickens, breast sides up, on a rack in a large shallow foil-lined roasting pan or broiler pan. Starting at neck cavity of chicken, loosen skin from breast and drumsticks by inserting fingers between skin and meat and pushing gently. Combine the mustard, garlic, and rosemary; rub evenly under loosened skin, and rub over breast and drumsticks of each chicken.
3. Bake at 375° for 1 hour and 20 minutes or until internal temperature of thigh is 175°. Transfer chickens to a carving board; let stand 5-10 minutes (temperature will rise to 180°).
4. Combine chutney and pecans in a small bowl. Carve the chickens; transfer to serving plates. Serve with chutney mixture.
Cooking Light DT