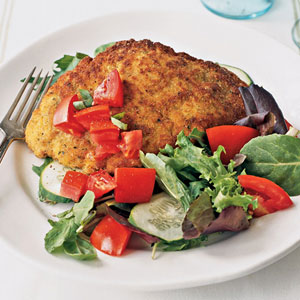 Ingredients
4 skinless, boneless chicken cutlets or breast halves (about 1 pound), flattened to 1/3 inch thick
Salt, to taste
Freshly ground pepper, to taste
2/3 cup Italian-seasoned breadcrumbs
1/3 cup grated Parmesan cheese
1 large egg, beaten
5 tablespoons extra-virgin olive oil, divided
4 cups mixed baby greens
2 tomatoes, chopped
1/2 cup sliced cucumber
2 tablespoons minced fresh basil, chives, or tarragon, or a combination
1 tablespoon balsamic or red wine vinegar
Preparation
1. Season chicken with salt and pepper. Combine breadcrumbs and Parmesan in a shallow bowl. Whisk egg in a separate shallow bowl. Dip chicken in egg, letting excess drip off. Coat both sides in crumb mixture.
2. Heat 2 tablespoons oil in a large skillet over medium-high heat until hot. Add 2 cutlets, and cook 2 minutes on each side or until cooked through. Repeat with 2 tablespoons oil and remaining 2 cutlets.
3. Toss baby greens with tomato, cucumber, and herbs. Whisk together remaining 1 tablespoon olive oil with vinegar, and season with salt and pepper. Toss salad with dressing. Serve cutlets topped with salad.
Cooking Light DT