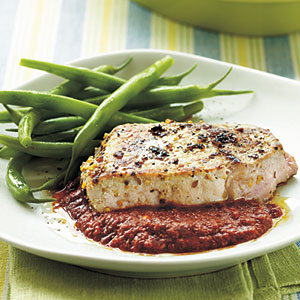 Ingredients
4 (4-ounce) boneless center-cut loin pork chops (about 1/2 inch thick)
2 teaspoons 25%-less-sodium Montreal steak seasoning (such as McCormick Grill Mates)
Olive oil-flavored cooking spray
1 cup bottled roasted red bell peppers, drained
1 chipotle chile, canned in adobo sauce
2 tablespoons water
1/2 teaspoon ground cumin
2 teaspoons extra-virgin olive oil
Preparation
1. Sprinkle pork evenly with steak seasoning. Heat a large nonstick skillet over medium-high heat. Coat pork with cooking spray. Add pork to pan; cook 4 minutes. Turn pork over; cook 3 minutes.
2. While pork cooks, place bell peppers and next 3 ingredients in a blender; process until smooth. When pork is done, remove pan from heat. Remove pork from pan; cover and keep warm.
3. Add bell pepper mixture to pan; return pan to medium heat. Cook 1 to 2 minutes, stirring often. Spoon 2 tablespoons sauce onto each of 4 serving plates. Top each with a pork chop; drizzle with 1/2 teaspoon oil.
Cooking Light DT