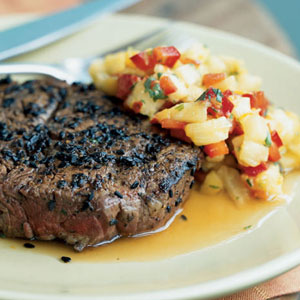 Ingredients
RELISH:
1/2 cup finely chopped pineapple
1/2 cup finely chopped peeled mango
1/4 cup finely chopped red bell pepper
2 tablespoons chopped fresh cilantro
1 tablespoon fresh orange juice
1/2 teaspoon grated orange rind
1/2 teaspoon crushed red pepper
Remaining ingredients:
Cooking spray
1/2 teaspoon salt
1/2 teaspoon freshly ground black pepper
4 (4-ounce) beef tenderloin steaks (about 1 inch thick)
4 teaspoons black sesame seeds
Preparation
To prepare relish, combine first 7 ingredients in a bowl; set aside.
Heat a grill pan over medium-high heat. Coat pan with cooking spray. Sprinkle salt and pepper evenly over steaks. Coat both sides of each steak with 1/2 teaspoon sesame seeds, pressing gently to adhere. Add steaks to pan; cook 3 minutes on each side or until desired degree of doneness. Serve with relish.
Wine note: Cabernet sauvignon may be the classic steak wine, but the tropical fruit relish with these steaks calls for a more fruit-forward red, like a California zinfandel. Try St. Francis Old Vines Zinfandel 2004 ($19) from Sonoma County. Its bold fruit tone, subtle smoke and spice, and juicy finish complement Asian flavors while standing up to beef.
Cooking Light JO.