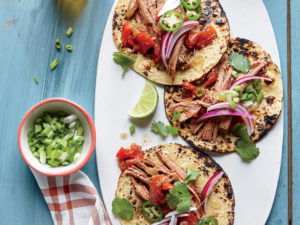 Ingredients
1 tablespoon finely chopped fresh oregano
1 tablespoon dark brown sugar
2 tablespoons olive oil
1 tablespoon minced chipotle chiles in adobo sauce
1 tablespoon adobo sauce
1 teaspoon ground cumin
3/4 teaspoon kosher salt
1/2 teaspoon freshly ground black pepper
3 garlic cloves, grated
1 pound trimmed beef brisket
2 medium tomatoes, chopped (about 2 cups)
1/2 medium onion, chopped (about 1 cup)
1 red bell pepper, chopped (about 1 cup)
1 jalapeño pepper, seeded and chopped
How to Make It
Combine first 9 ingredients (through garlic) in a medium bowl, stirring well to combine. Rub mixture into brisket.
Arrange tomatoes, onion, bell pepper, and jalapeño in the bottom of a 6-quart slow cooker. Place the brisket on top of vegetables, and drizzle any remaining spice mixture over brisket and vegetables. Cover and cook on LOW for 8 hours.
Remove the brisket from the slow cooker, and shred meat with 2 forks. Return brisket to cooker, and toss with the vegetables.
CL:AG