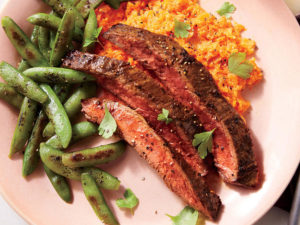 Ingredients
2 cups water
2 cups finely chopped carrot
2 tablespoons unsalted butter
1 tablespoon light sour cream
3/4 teaspoon salt, divided
1 teaspoon garlic powder
1 teaspoon paprika
3/4 teaspoon black pepper, divided
1 pound flank steak
1 tablespoon olive oil, divided
1 (12-oz.) pkg. frozen steam-in-bag sugar snap peas
1 tablespoon unseasoned rice vinegar
How to Make It
Bring 2 cups water and carrots to a boil in a medium saucepan over medium-high. Cover and cook 15 minutes or until tender; drain. Place carrots in a bowl with butter, sour cream, and 1/4 teaspoon salt; mash with a fork until almost smooth.
Combine remaining 1/2 teaspoon salt, garlic powder, paprika, and 1/2 teaspoon pepper in a small bowl; rub over steak. Heat 1 1/2 teaspoons oil in a large nonstick skillet over medium-high. Add steak to pan; cook 5 minutes on each side. Let stand 5 minutes. Cut across the grain into slices.
Cook snap peas according to package directions. Add remaining 1 1/2 teaspoons oil and snap peas to pan; cook 3 minutes or until lightly browned, stirring frequently. Stir in remaining 1/4 teaspoon pepper and vinegar. Serve snap peas with carrot mash and steak.
CL:AG