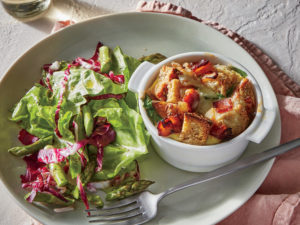 Ingredients
8 ounces multigrain bread, cut into 3/4-in. cubes (about 6 cups)
1 tablespoon olive oil
1/2 cup chopped white onion
1 teaspoon minced garlic
4 center-cut bacon slices, chopped
8 ounces fresh baby spinach
3/4 cup 1% low-fat milk
1/4 cup unsalted chicken stock (such as Swanson)
3 large eggs, lightly beaten
2 1/2 ounces fontina cheese, grated and divided (about 2/3 cup)
Cooking spray
How to Make It
Preheat oven to 400°F.
Arrange bread cubes in a single layer on a baking sheet. Bake at 400°F for 7 minutes or until toasted.
Heat oil in a large skillet over medium-high. Add onion, garlic, and bacon; cook 8 minutes or until bacon is crisp, stirring occasionally. Add spinach; cook 1 to 2 minutes, stirring until wilted. Place spinach mixture in a bowl.
Add milk, stock, eggs, and 1/3 cup cheese to spinach mixture, stirring to combine. Add bread; toss to coat. Divide bread mixture evenly among 4 (7-ounce) ramekins coated with cooking spray. Place ramekins on a baking sheet; top evenly with remaining 1/3 cup cheese. Bake at 400°F for 20 minutes or until browned. Serve immediately.
CL:AG