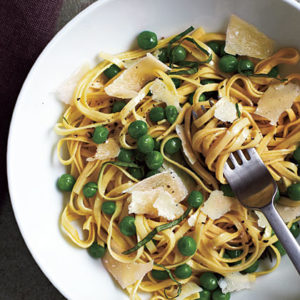 Ingredients
9 ounces uncooked fresh linguine
1 cup shelled fresh green peas
4 teaspoons extra-virgin olive oil
1 tablespoon unsalted butter
2 tablespoons fresh lemon juice
1/2 teaspoon salt
1/4 teaspoon freshly ground black pepper
1/4 cup thinly sliced fresh basil
2 ounces shaved fresh Parmigiano-Reggiano cheese
Get Ingredients
NUTRITION INFORMATION
calories 324
fat 12 g
satfat 4.4 g
monofat 5.1 g
polyfat 1.6 g
protein 13.2 g
carbohydrate 41.4 g
fiber 4.5 g
cholesterol 63 mg
iron 2.9 mg
sodium 467 mg
calcium 135 mg
How to Make It
Cook pasta according to package directions, omitting salt and fat. Add peas to pasta during the last 2 minutes of cooking time. Drain pasta mixture in a colander over a bowl, reserving 1/4 cup pasta liquid.
Heat oil and butter in pan over medium heat 1 minute or until butter melts. Remove from heat; stir in pasta mixture, reserved pasta water, juice, salt, and pepper; toss well.
Divide pasta mixture evenly among 4 bowls; top each serving with 1 tablespoon basil and about 2 tablespoons cheese. Serve immediately.
Cooking Light AG