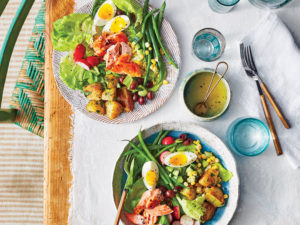 Ingredients
2 large eggs
1 (8-oz.) pkg. haricots verts (French green beans)
3 tablespoons extra-virgin olive oil, divided
1 (12-oz.) salmon fillet, about 1 in. thick
1/2 teaspoon kosher salt, divided
1/4 teaspoon freshly ground black pepper, divided
2 tablespoons white wine vinegar
1 tablespoon chopped fresh flat-leaf parsley
3/4 teaspoon Dijon mustard
1 head butter lettuce, torn (about 6 cups)
3/4 cup chopped English cucumber
1/2 cup fresh yellow corn kernels
1 1/2 ounces pitted kalamata or Niçoise olives (about 1/4 cup)
4 small radishes, cut into 1/2-in. wedges
How to Make It
Bring a medium saucepan filled with water to a boil. Carefully add eggs to pan; cook 6 minutes. Add green beans; cook 2 minutes. Drain; plunge bean mixture into a bowl of ice water. Let stand 3 minutes; drain. Peel eggs, and cut into quarters.
Heat 1 1/2 teaspoons oil in a large nonstick skillet over medium-high. Sprinkle fish with 1/4 teaspoon salt and 1/8 teaspoon pepper. Add fish, skin side down, to pan; cook 7 minutes. Turn, and cook 3 minutes. Remove fish from pan; break into large flakes with a fork.
Combine remaining 2 1/2 tablespoons oil, remaining 1/4 teaspoon salt, remaining 1/8 teaspoon pepper, vinegar, parsley, and mustard in a bowl. Divide lettuce among 4 plates; top evenly with eggs, beans, cucumber, corn, olives, radishes, and fish. Drizzle with vinaigrette.
CL:AG