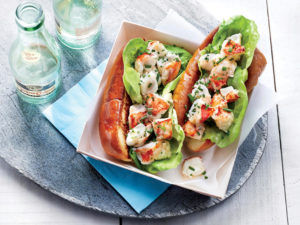 Ingredients
2 (1 1/2-lb.) live lobsters
4 top-split white or whole-wheat hot dog buns
2 tablespoons butter, softened and divided
1 teaspoon chopped fresh chives or tarragon
4 Bibb lettuce leaves
Order Ingredients
How to Make It
Bring 1 inch of water to a boil in a large stockpot over high heat. Place lobsters in the stockpot, cover, and steam until shells are bright red, 8 to 10 minutes. Remove with tongs; place on a rimmed baking sheet. When the lobsters are cool enough to handle (after about 20 minutes), snap off the claws, knuckles, and tails. Remove the meat, and chop into 1/4- to 1/2-inch pieces. (You should have 1 1/2 to 2 cups of meat.)
Brush the outside of each bun with 3/4 teaspoon butter. Heat a skillet over medium-high heat. Place buns, buttered side down, in skillet; cook, turning once, until deep golden, 2 to 3 minutes on each side. Place buns on a platter. Add remaining 1 tablespoon butter to the hot skillet, and remove from heat. Add the lobster meat, and stir to coat. Stir in chives or tarragon.
Line the inside of each bun with 1 lettuce leaf, and divide lobster mixture among the buns. Serve sandwiches immediately.
CL:AG