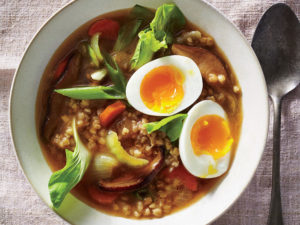 Ingredients
2 tablespoons toasted sesame oil
2 tablespoons red miso
1 cup diced sweet onion
1 (1-in.) piece fresh ginger, peeled and grated
3 garlic cloves, minced
4 cups water
4 cups unsalted chicken stock
1 ounce dried shiitake mushrooms
4 large eggs in shells
1/2 cup uncooked buckwheat groats, rinsed and drained
1 medium carrot, cut into 1/4-in.-thick half-moons
12 ounces baby bok choy, stalks sliced crosswise into 1/2-in. pieces, leaves left whole
2 green onions, cut into 1-in. pieces
2 tablespoons rice vinegar
How to Make It
Heat oil in a large saucepan over medium-high. Add miso, onion, and ginger; sauté 10 minutes or until browned and fragrant. Add garlic; sauté 2 minutes. Add 4 cups water, stock, and mushrooms. Bring to a boil.
Carefully drop eggs into broth; reduce heat to medium. Simmer 7 minutes. Using a slotted spoon, transfer eggs to a bowl filled with ice water. Let stand 1 minute. Peel eggs.
Add buckwheat and carrot to broth; increase heat to medium-high, and bring to a boil. Reduce heat to medium-low; simmer 15 minutes or until buckwheat is tender.
Add bok choy and green onions; cook until tender, about 5 minutes. Stir in vinegar. Ladle soup evenly into 4 bowls. Cut eggs in half lengthwise; place 2 egg halves on each bowl of soup.
CL:AG