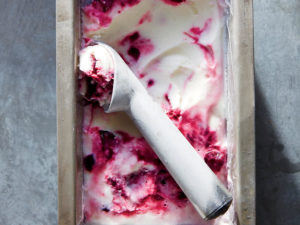 Ingredients
1 1/4 cups fresh sweet cherries, pitted and coarsely chopped (about 8 oz.)
1 tablespoon light brown sugar
2 teaspoons fresh lemon juice
3 cups plain whole-milk yogurt
1/2 cup half-and-half
1/3 cup granulated sugar
2 tablespoons light corn syrup
1 teaspoon vanilla bean paste
How to Make It
Bring cherries and brown sugar to a boil in a small saucepan over medium; cook 2 minutes or until cherries begin to soften. Reduce heat to medium-low; cook 13 minutes or until syrupy. Stir in lemon juice. Remove pan from heat; cool. Place cherry mixture in an airtight container; refrigerate 1 hour or until chilled.
Place a 9- x 5-inch loaf pan in freezer; freeze at least 30 minutes. Combine yogurt, half-and-half, granulated sugar, corn syrup, and vanilla bean paste in a bowl; stir with a whisk until smooth. Chill yogurt mixture 1 hour.
Pour yogurt mixture into the freezer can of an ice cream freezer; freeze according to manufacturer's instructions. Spread half of frozen yogurt in bottom of loaf pan. Dollop half of cherry mixture over top; swirl into frozen yogurt with the tip of a knife. Repeat procedure with remaining half of frozen yogurt and remaining half of cherry mixture. Gently press a piece of parchment paper directly on top of frozen yogurt; wrap tightly with plastic wrap. Freeze 4 hours or until firm.
CL:AG