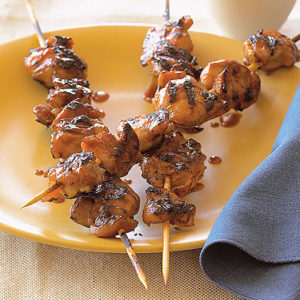 Ingredients
1 cup mirin
1/3 cup sake (rice wine)
1/2 cup superfine sugar
2 tablespoons minced fresh ginger
2 teaspoons minced garlic
1/4 cup soy sauce
2 pounds boned, skinned chicken thighs, cut into 1 1/2-in. pieces
How to Make It
In a medium saucepan, combine mirin, sake, sugar, ginger, garlic, and soy sauce. Bring to a boil over high heat and cook until sugar has dissolved and sauce has thickened slightly, about 8 minutes. Remove from heat and let cool completely.
Put chicken in a large bowl, pour marinade over it, and turn to coat. Chill at least 1 hour and up to 3 hours.
Prepare a charcoal or gas grill for medium heat (350° to 450°; you can hold your hand 5 in. above cooking grate only 5 to 7 seconds). Thread chicken onto skewers. Transfer marinade to a small saucepan and boil over high heat until it has the consistency of barbecue sauce, about 15 minutes.
Grill skewers (cover if using gas), basting with thickened marinade and turning frequently to prevent scorching, until chicken is caramelized and no longer pink in center (cut to test), about 6 minutes. Serve with remaining sauce on the side.
Note: Nutritional analysis is per skewer.
CL:AG