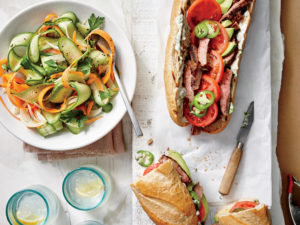 Ingredients
12 ounces flank steak, trimmed
1 1/2 teaspoons olive oil
1 teaspoon ground cumin
3/4 teaspoon chipotle chile powder
1/4 teaspoon kosher salt
1/4 cup canola mayonnaise
2 tablespoons chopped fresh cilantro
1/2 teaspoon grated lime rind
1 tablespoon fresh lime juice
1 minced garlic clove
1 (12-ounce) whole-grain French bread baguette, halved lengthwise
Cooking spray
1/2 ripe avocado, thinly sliced
8 (1/8-inch-thick) tomato slices
1 jalapeno pepper, thinly sliced
How to Make It
Preheat grill to medium-high heat.
Brush steak with oil; sprinkle evenly with cumin, chile powder, and salt. Let stand 15 minutes.
Combine mayonnaise, cilantro, rind, juice, and garlic in a bowl; refrigerate.
Hollow out top and bottom halves of bread, leaving a 1/2-inch-thick shell; reserve torn bread for another use. Coat cut sides of bread with cooking spray. Place baguette halves, cut sides down, on grill rack; grill 1 minute or until toasted. Remove from grill. Coat grill rack with cooking spray. Add steak to grill; grill 10 minutes or until desired degree of doneness, turning occasionally. Place steak on a cutting board; let stand 5 minutes. Cut across the grain into thin slices.
Spread top half of bread with mayonnaise mixture. Arrange avocado over bottom half of bread; top with steak, tomato, jalapeño, and top half of bread. Cut sandwich into 4 pieces.
CL:AG