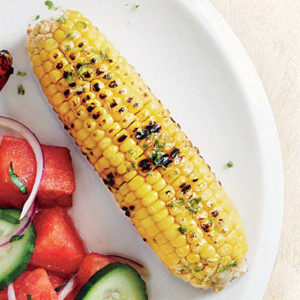 Ingredients
1 tablespoon olive oil
2 teaspoons butter
1 garlic clove, minced
4 ears shucked yellow corn
Cooking spray
1 teaspoon grated lime rind
1/4 teaspoon kosher salt
How to Make It
Preheat grill to medium-high heat.
Place oil, butter, and garlic in a small microwave-safe bowl. Microwave at HIGH for 30 seconds or until butter melts; set aside.
Coat corn with cooking spray. Arrange corn on grill rack; grill 10 minutes or until done and lightly browned, turning occasionally. Remove from grill; brush with butter mixture. Sprinkle with rind and salt.
CL:AG